Needle valves are responsible for the safe and efficient operation in a variety of industrial applications. They control the flow rate of the process media using a long-tapered stem tip that is often referred to as the plunger. A small handle or hand wheel is then used to rotate the stem either closer or further away from the seat.
Because of its unique design, needle valves can accurately and precisely control the flow of the process media. The Hoke valves we carry includes a complete line of precision needle valves with various stem tip options with the primary function of flow control.
Since their inception, Hoke Controls has been the logical choice for fluid control solutions, providing the lowest cost of ownership and offering the best in class reliability and availability. In fact, Hoke's inception started with a Needle valve built into a jeweler's torch. This allowed the jeweler to control the flow of gas for fine tuning the flame while working on small & intricate pieces of jewelry.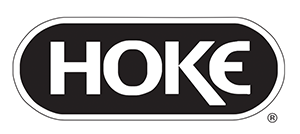 Hoke needle valves are offered with a choice of 6 stem tip options to provide greater flexibility.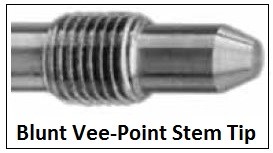 2200 Series needle valves feature blunt vee-point stem tips that provide full flow with only a few turns of the valve handle. This style of needle valve stem tip can be found in sampling systems to introduce the initial flow of gases or liquids either into or out of the sample cylinder. Its larger metal tip provides a robust design for caustic applications were minor flow control is needed.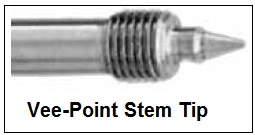 3700 series, globe-pattern needle valves feature a vee-point stem tip that is used to provide leak-tight shutoff in small orifice valves ranging from 0.060 to 0.312. With about ten turns of the handle to achieve full flow, the Vee-point also has better flow control properties. This control allows the gradual introduction of high-pressure gases into a system. This style of stem tip is found throughout the Industrial Gas market in gas chromatography, test stands, and sampling systems.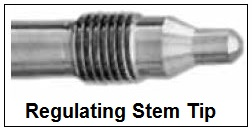 The 3700, 3800 and 3900 series Hoke needle valve feature a gradually tapered tip which allows for greater control. This type of tip is commonly found in analytical equipment, test stands, and research laboratories. This precision design allows the user to fine-tune the process media to meet specific flow requirements.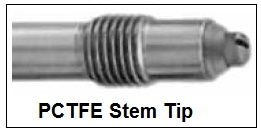 Offered in 2100, 3700, 3800 and 3900 series Hoke needle valve line, a PCTFE stem tip requires a lower seating torque than a metal stem tip. It will provide full flow through the valve with only a few handle turns. The PCTFE tip is replaceable and has a maximum temperature of 250° F and offers bubble tight performance for a vast majority of applications.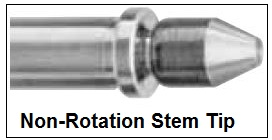 A non-rotating stem tip is typically used in high cycle applications to extend the service life of the valve. Its purpose is to prevent galling in the seat and on the stem tip. As the valve closes, the stem tip contacts the valve seat then is driven straight into the valve seat without rotating. The forged body 2800 series and the 1700 series has an option with a non-rotating stem tip which features a stem backseat for safety, a long cycle life with the high-temperature capability up to 700°F and a union bonnet for safe, convenient maintenance, great for corrosive handling, and for reactive and hot condensates.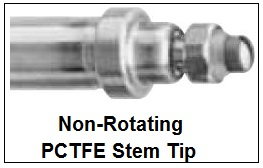 Our 1700 series also offers a non-rotating PCTFE stem tip which operates in the same fashion as the non-rotating metal stem tip but requires less seating torque. This tip features a bubble tight seal and replaceable PCTFE seal.
Deciding which needle valve can be challenging and every application can be unique. Circle Valve Technologies technical support team provides one-call rapid response and provides you the expertise to choose the right option for any application.
For over thirty years, Circle Valve Technologies has offered top-level customer support, and precision machined flow control products. CVT is a stocking distributor of the most common needle valves with competitive pricing. Contact us at [email protected] or call 267-933-6300.