An explosion-proof solenoid valve must have a coil or enclosure that is able to contain any explosion originating from within the coil or housing and prevent any internal spark from igniting any combustible gas, vapors or particulates in the surrounding environment that could cause a much larger explosion.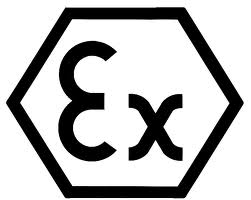 Explosion proof identifier
There are a number of standards for classifying equipment for hazardous environments. The most common we see are; NEMA (National Electrical Equipment Manufacturers Association (USA)), IEC Ex (International Electrotechnical Commission Explosive (global)) and ATEX (ATmosphères EXplosibles (EU)). If you are purchasing an explosion-proof solenoid valve be sure you see one of these marks on the valve, which may vary depending on which standard was followed.
NEMA has four hazardous location enclosure ratings (7-10) which correspond to specific environments (indoor/outdoor) and materials (explosive gases and particulates). NEMA follows the NEC (National Electric Code) Divisions System for Gas & Dust Groups. The IEC Ex & ATEX have a Zone System for Gas & Dust Groups. They cover many of the same materials but are laid out differently.
Circle Valve Technologies distributes three lines of solenoid valves that offer the explosion-proof option, Jefferson Solenoid valves, Circle Seal SV Series and Atkomatic Solenoid valves.
Jefferson Solenoid Valves:
For hazardous locations, Jefferson manufactures both encapsulated explosion & weatherproof coils (IEC and ATEX) and explosion & weatherproof housings (NEMA). Used as an automatic safety shutoff for compressed natural gas systems like CNG dispensers, Jefferson's 2094 series solenoid valve is the ultimate in performance, resistance, and efficiency under hard working conditions and features an integrated explosion-proof housing to prevent any possible chance of ignition.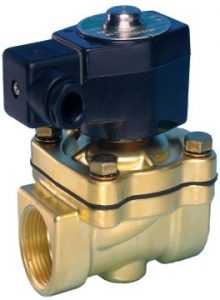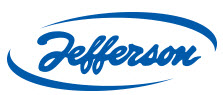 Jefferson also offers general purpose solenoid valves with an exposition proof coil. From the 2036 or 1335 series used in oxygen and acetylene equipment to the 1342 series used in autoclaves and pollution controls, Jefferson solenoid valves offer this option with an ATEX approved explosion proof coil.
Atkomatic Solenoid Valves:
Atkomatic valves are rugged and robust products designed to serve a wide variety of demanding markets including turbine manufacturing, chemical process, electric and gas utilities, industrial gasses, cryogenic transfer and oil refining. Explosion-proof coil housings are offered on most Atkomatic valves and comply with the NEMA 7 & 9 enclosures, and the Division 1 Class 1 groups C & D. Class 1 atmospheres contain hazardous vapors or volatile chemicals and class 2 contain hazardous concentrations of dust or particulate that are potentially explosive.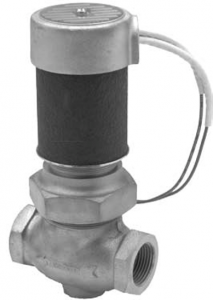 The Atkomatic 15400 bronze series and 15800 stainless series are some of the most popular valves utilized in the field alongside the 30400 series and 30800 series for their reputation of being safe and reliable in hazardous locations and prevent any chance of ignition.
Circle Seal SV Series Solenoid Valves:
With a choice of either a 2 or 3-way solenoid valve for gas or liquid service and pressures up to 6000psi, the SV 400 Series is the pinnacle when it comes to high-pressure instrumentation valves for hazardous locations. With its sophisticated, balanced poppet design, the 3-way / 2-position valve, employs a single poppet, two pressurized sliding seals, and two main valve seats.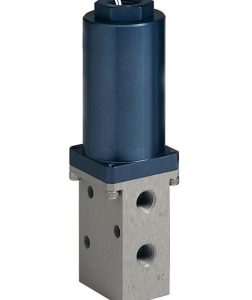 For hazardous high-pressure applications, the SV400 series is offered in CSA-UL (Canadian Standards Association – Underwriters Laboratory) NEMA 7 coil housing. The versatility of this credential allows the valve in hazardous applications in the United States or Canada and other markets that support the CSA-UL NEMA 7 certification.
Circle Valve Technologies understands that sourcing the correct solenoid valve for a hazardous location is not just about meeting performance specifications but must also meet the required certifications established for safe use.
At Circle Valve Technologies we are committed to offering superior technical support and work with some of the finest engineers on their application development.