Check Valves are probably some the most misunderstood valves in an application. Simply put, a check valve allows the flow of gas, liquid or steam in one direction and automatically prevents backflow in the reverse direction. Check valves come in various forms depending on the application. Some examples include the ball check, swing check, and poppet check valve, all of which are flow sensitive and rely mainly on system pressure to open and typically use internal spring/hinge pressure to close. Check valves are used in a variety of industries & systems such as:
• Pumps & pumping equipment
• Chemical and petroleum plants
• Fire Suppression
• Hydraulic systems
• Industrial Gasses
Chattering occurs when the valve is oversized for the application and is one of the most common causes of check valve failure. If there is a lot of valve chatter (opening and closing of the valve repeatedly) it can cause the internals to wear prematurely, causing spring failure, poppet damage or a valve seat to become distorted, all affecting how the valve seals off backflow. Pipe size and the desire for the largest Cv (Flow Coefficient) are common ways to select a check valve. Unfortunately, this approach completely ignores the fact that check valves are sensitive to flow conditions.
It is important to remember that check valves should be sized for the application, and not necessary for the pipe size. The poppet needs to be stable against the internal stop in the open position or fully closed position; this will result in no chattering (fluttering or excess vibration) from occurring, and therefore no premature failure from excess wear on the internals.
Properly sizing a check valve minimizes the likelihood of chatter. By knowing the temperature, pressure, media, flow rate, and viscosity we can help to determine the flow characteristics of the valve when in service. We want to ensure we have at least a 1 psi pressure drop across the valve, though more is preferred to ensure that the valve is in the fully open position. Circle Valve Technologies offers a diverse line of check valves with multiple spring ranges and sealing material to accommodate various applications.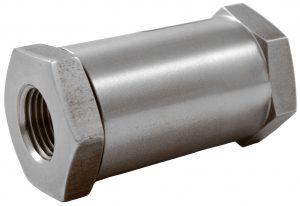 Circle Seal 200 Series Check Valve
The Circle Seal 200 Series patented sealing principle effects complete leak-proof closing under all pressure conditions. The compact, easy to install valves provides an efficient inline piston, which reduces the size and weight with a quick opening/positive closing valve.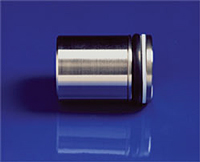 Circle Seal Cartridge Check Valve
Circle Valve also offers a C200 / C2900 Series cartridge check valves for manifold applications. They provide zero leakage, quiet closing and features automatic compensation for wear and can handle a large flow capacity. The compact design and floating O-ring provide maintenance free flow with easy installation.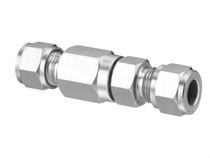 Our Hoke 6100 & 6200 Series ball and poppet check valves come standard with an O-ring seat that provides leak-tight shutoff and the internal design guides flow around or inside the spring, not through coils when the valve is open. Poppet models provide large flow with a minimum of chatter and fluctuation. Lastly, the 2-piece body permits interchangeability of the end connection adding to its versatility.
Circle Valve has a technical staff devoted to sizing out a check valve to meet your application. Our line card encompasses some of the most sophisticated valves used in the Industrial Gas, Cryogenic and High Purity markets. Included in our lines are also the necessary regulators and relief devices to provide adequate flow control for your application.
To see more of our complete product offering or to discuss your application visit us a www.circlevalve.com or call us at 267-933-6300.