Pressure Relief Valves (PRV's) or Pressure Safety Valves (PSV's) make up some of the key components utilized in today's applications to control media. There sole objective is to open and relieve excess pressure from a vessel or system and then close to prevent further discharge of gas or fluids after normal conditions have been restored.
Over pressure occurs when part of the vessel or piping system exceeds the maximum allowable working pressure (MAWP) of the system. Over Pressure in a system can occur for a number of different reasons depending on the type of system and media being used. Regardless of the cause of the over pressure, the outcome is the same, part of a tank or piping system is compromise due to pressure of the system rising over the MAWP.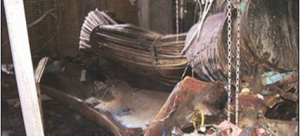 Circle Valve Technologies offers a wide variety of relief valves to meet the demands of today's applications. Whether your designing a new system or having a problem with your current relief valve, our Circle Seal 500 Series* line of relief valves has got you covered. They are among our most popular relief valves used for controlling pressure in a wide range of applications that require consistent & reliable operation.
The 500 Series Relief Valve configurations include vent to atmosphere & inline. Vent to atmosphere PRV's (pop-off relief valves), are usually to control over pressurization of a pressure vessel, and are used when the media is safe enough to vent into the air/atmosphere. Common applications include; System overpressure protection, storage tanks, medical equipment, communications equipment, process control instruments and R&D Pilot Plants. Inline PSV's are typically used to control a process by piping the relieving media to a different part of the process (or when the media is not safe to vent into the air). Common applications include; Freon recovery systems, refrigeration & heating equipment, measuring & dispensing pumps R & D Pilot plants and Vacuum pump safety. Both types are offered in an array of sizes from 1/8" to 1¼" NPT and sealing materials such as; Viton®, Buna N, ethylene propylene (EP), neoprene, Teflon® and silicone to meet most any application requirement.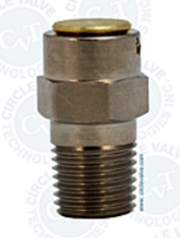 The 500 Series line of relief valves come in three different styles (five if you count the deflector cap configurations) all of which are designed and manufactured to meet rigorous OEM industrial application requirements of today.

Offered inline, Pop off w/ NPT threads, sizes 1/8" – 1¼"
Designed for wide variety of applications (set pressure 0.5 – 150 psi)
A resilient seal automatically establishes contact with the spherical seal providing zero leakage at reseat.
Metal to metal poppet stop supports spring load and prevents seal deformation, which can lead to sticking, over time.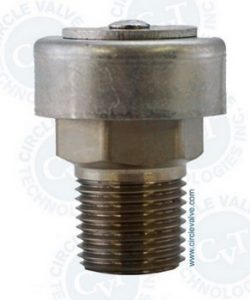 Unlike the 500 Series vent-to-atmosphere, the D500 series vent-to-atmosphere has completely different flow capacities. By utilizing a deflector cap, it not only protects personnel from being struck with a gas jet, but it also provides an additional lifting force on the poppet/spring during opening.
If we compare a 532T1-2M-100 which has a flow rate of 9.5scfm at 10% overpressure to a D532T1-2M-100 with a flow rate of 56scfm at 10% overpressure, we see that the D500 flows 17% more flow! (Note: The D500 is Not for caustic gases). Click here to see how it works.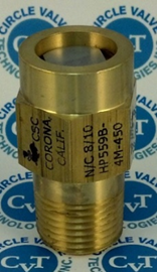 HP500 Series*
Offered inline / Pop off w/ NPT threads, sizes ¼" & ½"
Specifically designed for high pressure (set pressure 150 – 575psi)
The HP500 offers a larger flow passage and positive reseating when the spring retracts the poppet
The metal-to-metal stop on the low-pressure side supports the spring load and prevents seal deformation and sticking.
Click here to see how it works.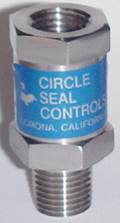 L500 Series
The L500 Series Relief Valves were designed to eliminate inefficiencies common with typical low-pressure relief valves on the market today. It has a knife edge seal design for improved seal integrity and low differential pressure sealing and a Guided poppet for improved consistency and less sticking.
Offered inline / Pop off w/ NPT threads, sizes ¼" & ½"
Specifically designed for low pressure (set pressure 0.2 – 15 psi)
With its resilient seal design & metal to metal poppet stop, the 500 series line of relief valves ensure years of stick free and leak free operation that you can rely on. Contact the specialists at Circle Valve Technologies with help in sizing your next relief valve. With decades of experience and a complete warehouse for fast shipping; Circle Valve can accommodate field installations and get you back up and running quickly.
*PED certifications and CE markings are available for most models

Note: Proper filtration is recommended to prevent damage to sealing surfaces