Circle Valve Technologies was established in 1986, when former employees of Circle Seal, transitioned from factory direct sales to a stocking distributor to better serve their customers. For over 30 years, they have had an unwavering commitment to offer superior technical support and outstanding customer service. Circle Valve Technologies distributes industry leading products which define the standard for quality and dependability. As the industries they serve evolve, so does the company, with the objective to tailor their services to meet the needs of an ever changing market.

Technical Support:
Circle Valve Technologies' technical department has over 75 years of combined technical knowledge enabling them to assess, troubleshoot and provide practical solutions to the demands of today's applications. As an authorized distributor we have access to the latest information on our products and capabilities. Thus, offering unmatched support with application development.
Valve Modifications and Rebuilds:
Did you know Circle Valve Technologies has the components necessary to modify and/or rebuild many of the valves we carry? This value added service can only come from a stocking distributor. We understand the importance of quick turnaround and how it can impact a company's efficiency. At CVT we are able to set and ship most valves within 2 or 3 days. Should an emergency arise, we can ship same day to prevent costly downtime.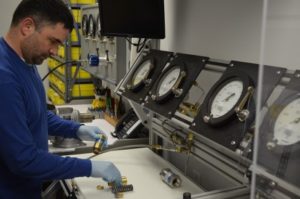 O2 Cleaning and Recertification:
Many of our valves are used in sanitary environments and oxygen service that require special cleaning to ensure there is no presence of hydrocarbons and/or foreign debris. To meet this demand, Circle Valve Technologies is equipped with an oxygen cleaning station capable of offering industrial oxygen cleaning to specification 4WPI-SW 7003. In addition, we also offer a precision cleaning for those valves in less demanding applications.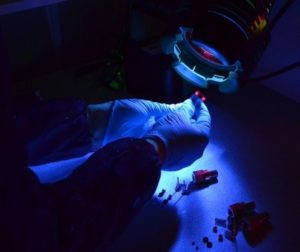 For valves that have been in service for an extended period of time, Circle Valve Technologies offers valve recertification. During the recertification process, we evaluate the valves functionality in its current state and thoroughly inspect the valve body for deformation and seal contamination. After further assessment it may be necessary to replace the seals and other internal components. The valve is then set to the factory tolerances and certified for further use. These services are generally offered in one week or less!
Inventory and Product Lines:
We recently increased our facilities by doubling the warehouse size and office space. This space was needed to accommodate our growing staff and to offer a larger inventory selection of products for our customers
In the past 18 months, the company has added several product lines to provide complete solutions for a variety of applications and industries.

Since their inception in 1967, NoShok has offered a comprehensive look into the future of measurement solutions. They continue to forge the way with their continually-expanding product offering and industry-leading warranties. From gauges to pressure switches, to transmitters and transducers, NoShok has you covered.

Truelok brand Ultra High Purity (UHP) Face Seal & Mini Weld Fittings are offered with low Ra values, proper surface chemistry, and contamination-free components at a substantially lower cost compared to the competition. They are interchangeable and intermixable with the fittings offered by other manufacturers of metal-to-metal face seal connectors, micro-weld & mini-weld fittings, including VCR® style glands, gaskets and nuts.

Circle Valve has long specialized in "small bore" precision flow control solutions with orifice sizes typically up to 2". The addition of Canawest Technologies (CWT Valve) has allowed us to better serve our customers and their applications from 1/8" up to 48".With solutions that control, check, measure and regulate process media, CWT offers an extensive line of gate, globe, plug and butterfly valves for a variety of industries including Oil & Gas, Petrochemical, Power Generation, Mining, Marine and Construction.
Advanced ERP System (Enterprise Resource Planning)
Circle Valve Technologies recently completed the implementation of NetSuite, a cloud based ERP system. Our legacy system served us well, but NetSuite's advanced CRM solution, that touches every aspect of our ERP system, gives all our employees a wealth of information about our customers in one location. Customers are by far our single most valuable asset and anything we can do to provide them with a more positive experience only strengthens our relationship with them. NetSuite gives us the tools to ensure that everyone within our organization can build on that relationship and provide the same high level of service they deserve and expect.
As a testament to our performance, Circle Valve Technologies will continue to offer a diversified selection of industry leading products and uphold our commitment to provide dependable and superior service. All while developing new ways to incorporate effective product solutions and services making Circle Valve Technologies a value added distributor for years to come.