Over the years there have been a number of advancements in the Cryogenic and Industrial gas industries with the aim of keeping liquefied gases colder longer. This has allowed the transportation and storage of larger amounts of these gases in a liquefied state for longer periods of time. At some point even the best cryogenic storage tanks will experience some heat flux from their surroundings, causing the temperature inside the tank to rise to a point that some of the liquefied gas begins to evaporate and reverts back to its gaseous state. This process is known as Boil-Off Gas (BOG). The use of a safety relief valve specifically designed for cryogenic temperatures is the best choice for handling pressure rise due to BOG.
Rockwood Swendeman is a world leader in the manufacture and assembly of bronze and stainless steel safety relief valves for the Industrial gas and Cryogenic industries. For over 50 years Rockwood Swendeman has been making safety relief valves and 50 years later they are still the go to safety relief valve for many of the largest OEM's in the cryogenic and industrial gas industries.
Tanks that store liquefied gases have many safety features and redundancies, both to prevent exceeding the maximum allowable working pressure (MAWP) of the tank and for ease of service. The first of these safety features is typically an ASME certified safety relief valve, such as a Rockwood Swendeman bronze right angle PRV (pressure relief valve). The bronze RXSO series & stainless steel RXSO-S series safety relief valves have an operating temperature range of -423°F to +400°F, which also makes them an ideal choice for labs and other facilities where nitrogen and other gases are supplied by boil-off from liquid gas storage tanks. Their low operating temperature helps to ensure the valve won't freeze open in the boil-off supply where gas temperatures can be extremely low.
Rockwood Swendeman also offers diverter valves and fully assembled Cryotrees which include the diverter valve, redundant ASME safe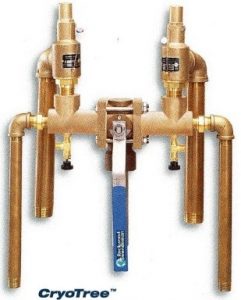 ty relief valves, burst discs and bleed valves sized based on the flow requirements of the application. These are manufactured for use on stationary cryogenic storage tanks for the pressure relief system that protects the tank from over-pressurization and also on the internal tank piping system. These modular assemblies use a single connection that provides a dual relief system, which enhances reliability of the pressure relief system should one side fail, and also eliminates the need to shut down and evacuate the tank for service on the internal tank piping system. A single relief valve system could lead to loss of product should it fail and/or down time during regular maintenance. Incorporating a Rockwood Diverter or Cryotree offers a quick and effective solution allowing you to divert the media from one side to the other quickly.
Using an ASME certified valve ensures pressure is properly relieved to protect pressurized vessels, lines or systems during an overpressure event. Overpressure can damage vessels and piping systems and in extreme overpressure situations even explode causing catastrophic system failure and potentially injuring property and/or people. Relief flow is critical to the integrity of these applications. The Rockwood Swendeman design ensures that over pressure is properly relieved so the pressure vessel is not compromised and a safe working environment is maintained.  Large and extra-large flow rate capacities of the RSXO and RXSO-S series relief valves significantly reduce the risk of any over pressure event and are certified to ASME sec. VIII. All ASME certified Rockwood Swendeman safety relief valves are designed and manufactured to meet a number of applicable codes such as; CGA S-1.2 & S-1.3, V-4301 (Cryo Non-Oxygen), V-4401 (Oxygen), ASME sec VIII, API 527, AD-Merkblatt A2 and CRN (Canadian Registration Number) 0G0591.9.
A major concern facing the industrial gas / Cryogenic markets is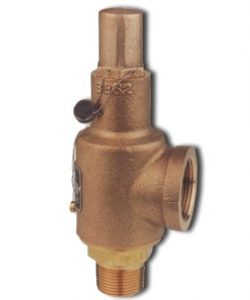 contamination. Some contamination, such as hydrocarbons, can lead to ignition under certain conditions in an oxygen-enriched environment. This is why it is important to control the sources of all contamination by having the valve cleaned for applications where contamination can present a problem. All Rockwood Swendeman valves are cleaned and packaged for the use in oxygen service in compliance with the Compressed Gas Association's specifications G-4.1 and there is no extra charge for this level of cleanliness. They also meet 4WPI-SW 7003 and GS-38 cleaning specifications.
A bronze ASME PRD (pressure relief device) may be the right choice for most applications but when there material compatibility issues, stainless steel may be the better choice. When bronze/brass is not compatible with applications involving corrosive gases but a high capacity relief valve is needed, the RSXO-S Series fills this void. With the same reliability and function of the bronze RXSO series, the stainless steel RXSO-S series is electro polished and manufactured for high purity and electronic applications as well as air/gas compressors, stationary cryogenic storage tanks and corrosive gases.
Selected by the factory to be there master distributor, Circle Valve Technologies encompasses the technical aptitude to understand critical applications within the Industrial gas and Cryogenic industries. As a stocking distributor, we carry the most common set pressures which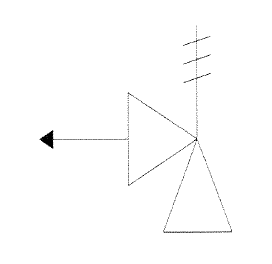 enable us to offer quick lead times. We also distribute many of the accessories that go along with these applications such as check valves, pressure gauges & rupture discs. Please contact our sales department to discuss your application today. We always answer the phone and can be reached at 267-933-6300 or by email at [email protected].