NoShok Pressure Gauges offer a combination of low cost solutions and high quality, accurate measuring devices. Also attractive is their quality commitment and warranties that last 1 to 3 years (depending on the series) to remain within catalogued accuracy specifications.
A variety of body materials (ABS, Brass, Stainless Steel) and pressure ranges are offered with accuracy levels as low as +/- .025% full scale. The gauges are competitively priced for all markets and NoShok stocks the components to build many of the gauges they carry for quick shipping.
Types
Dial Indicating Pressure Gauges: 100 series, 400/500 series, 900 series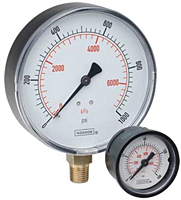 This gauge type solves a cost problem. If a strict budget is in place, the 100 series is offered with an impact resistant ABS & steel case without compromising accuracy. Geared for the most demanding OEM applications, the price point of the 100 series will certainly meet the demand.
Display analog signal of pressure
Provides an inexpensive measuring of pressure
Can be filled with Glycerin to dampen shock and vibration on the unit as well as adds lubrication.
Digital Pressure Gauges: 1000 series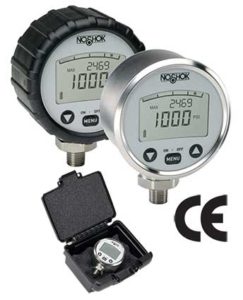 Real-time accuracy is vital in high demanding applications. An analog gauge simply cannot compare to how precisely digital gauges measure quick spikes in pressure. With an internal lightning feature, NoShok's 1000 series is excellent in low lighting situations. Additionally, a digital pressure gauge is compatible with enhanced software programs and breaks the barrier from one technology to the next.
Works with Electro-Mechanical Instruments
Displays pressure reading numerically usually with an LCD readout
Can be powered either by battery or from an external source
Differential Pressure Gauges: 1000 series & 1100 series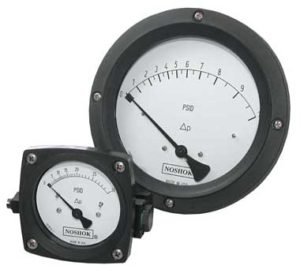 Is your filter clogged? Filters will cause backpressure over time as it traps the incoming contaminates of the process media. A differential pressure gauge can alert you if your process line has an obstruction due to a clogged or dirty filter.
Used for filter monitoring and backflow testing
Designed to measure and illustrate the difference between two pressure points within a process system
Offered in Piston or Diaphragm type
Sanitary Pressure Gauges: 10 series, 20 series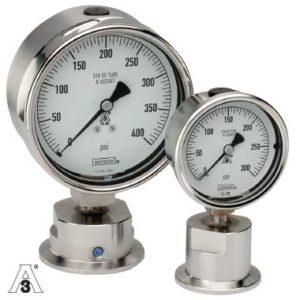 If you're in the medical, pharmaceutical or food and beverage industry, chances are you're familiar with the stringent sanitary requirements of these fields. Replacing that standard threaded gauge with a sanitary gauge will prevent any cross contamination from ever entering into your application.
Offered in electro polished stainless steel case
Dry and filled gauge are available – helps to lubricate the internals and dampen the vibration
Meets current standard for 3A and ASME BPE-2009
Custom Gauge Face
Not only does it read pressure – it markets your company!
Specifically designed for customer's application
Great marketing tool on OEM applications
Applies to any gauge series
One-time art work charge
Circle Valve Technologies Tips:
Consider following conditions when determining the correct gauge:
Pressure Range
Temperature Range
Method of Mounting
Environmental Conditions etc.
Note that choosing a pressure range that is approximately twice the normal operating pressure is critical to the success of the gauge. Temperature can affect the gauges reaction time and the longevity of the internal components. Mounting a gauge in the proper location can make it easier to read and organizes the other components in and around it.
Lastly, take into account the environmental conditions. Will the gauge be mounted outside or subjected to excessive vibration? This will determine if other accessories are needed to aid in the gauges functionality.
We encourage you to take advantage of Circle Valve Technologies technical support. With decades of experience, we have the resources necessary to take your specifications and give you the best gauge solution for your application. Just because you're an engineer doesn't mean you have to do it alone.
[email protected]
800-645-6733
www.circlevalve.com